A guide through the best Mykonos beaches! Either you're looking for a party beach, a more cosmopolitan or a quiet and secluded, there is one for every beach style!
Mykonos island is famous for so much. It has great nightlife options, amazing restaurants, gorgeous luxury hotels, a beautiful whitewashed main town but nothing compares to it's spectacular beaches with the fine golden sand and the crystal clear waters. There is a beach for every taste and mood. Nudists, party people, families, gay and also those seeking a break from the overcrowdedness of Mykonos.
Mykonos beaches on the south coast have the best sand, view and are protected from the regular north winds while most of them have beach bars, taverns, restaurants, shops and are also well equipped with deck chairs and umbrellas.
The north coast Mykonos beaches are less developed but just as beautiful. They are less organized and crowded and most suitable for those in search of tranquillity.
Furthermore keep in mind that most people begin to arrive in the early afternoon (13:00-14:00pm), and you can avoid the worst of the crowds by going in the morning.
South coast Mykonos beaches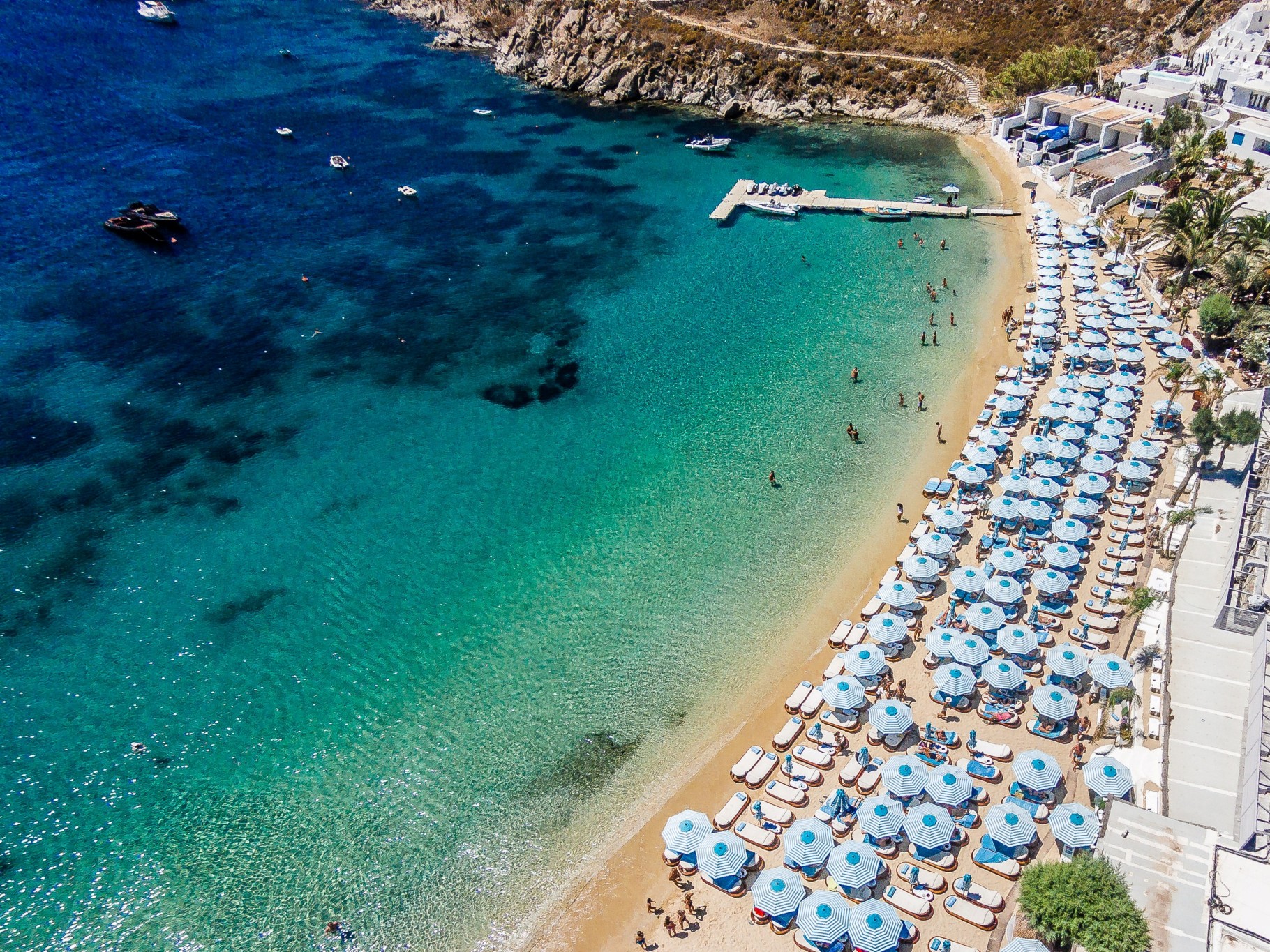 Psarou Beach
Location: 4km South of Mykonos Town
Description: This upmarket sandy beach with its turquoise waters is very popular among celebrities. Many luxury hotels, apartments and restaurants are located here. Psarou beach is easily accessible by bus from Mykonos Town, just one stop before the last stop of Platis Gialos. Read more details →
Platis Gialos Beach
Location: 6km South of Mykonos Town
Description: Busy family and tourist beach. Lots of hotels, apartments, restaurants and beach bars, while Water sports are also available. Bus Service from Mykonos Town is very frequent, till very late at night and takes about 15 minutes. Platis Gialos is also the starting point for regular boat services (water taxi) to the other southern Mykonos beaches. Read more details →
Paraga Beach
Location: 6km South of Mykonos Town
Description: One of the smallest beaches, a combination of two sandy beaches separated by a headland. Nudity here is quite common, especially on the right end (facing the sea). Paranga is easily accessible by bus from Mykonos Town or with a regular boat service from Platis Gialos – first stop. Read more details →
Paradise Beach (Kalamopodi)
Location: 6km South of Mykonos Town
Description: Probably the most popular beach known for its parties, attracts young and some times not so young crowds. Paradise is also easily reached by bus from Mykonos Town or with a regular boat service from Platis Gialos – second stop. Read more details →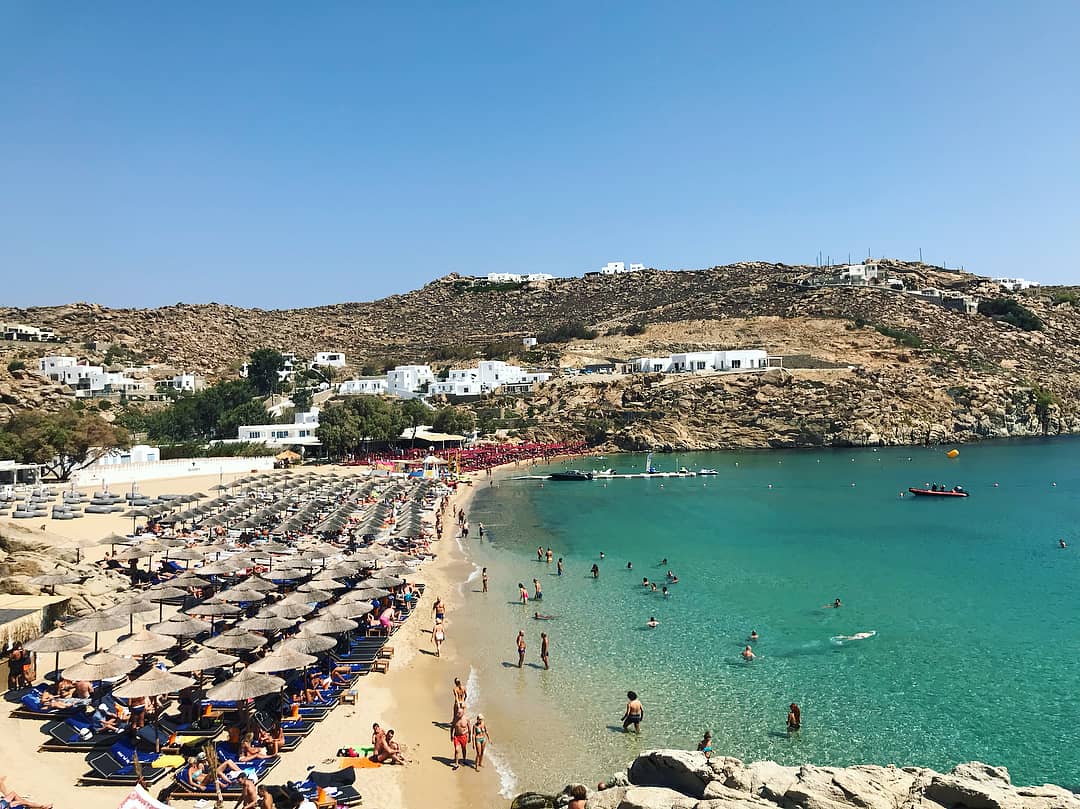 Super Paradise Beach (Plintri)
Location: 7km South of Mykonos Town
Description: Just as famous as its neighboring Paradise. Despite the heavenly setting, don't come here for a peaceful day – music blares from huge loud speakers and the beach partying often continues all day long. Full nudity is permitted on the right side of the beach which is also gay friendly. There is no bus service to Super Paradise, but it is easily accessible with your own transportation or the regular water taxi from Platis Gialos (third stop) Read more details →