The 19th Gumball 3000 Riga to Mykonos International Rally of luxury cars culminated on Sunday evening at Mykonos with a great party!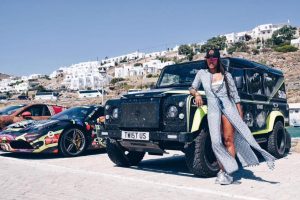 FIrst time in Greece
The rally began a week earlier in Riga, Latvia and for the first time in its history it finished in Greece. The famous annual road trip had all brands of luxury cars, Ferrari, Lamborghini, Pagani, Porsche, Jaguar, Lotus and more.
2017 Gumball 3000 Riga to Mykonos
Locals and tourists stood in amazement staring at the expensive super-cars that had just completed a 5.000 km route ending at Greece's most famous cosmopolitan island.
The 130 vehicles that participated in this year's Gumball ran the Chora (Mykonos Town) – Ano Mera route and parked at the old port of Mykonos!
Over there a lavish show followed the finish line according to Mykonos Live TV.
A giant screen was set up for a live broadcast of the arrival of the cars under the sounds of music from a well-known dj! In addition models dressed as white angels welcomed the cars. Furthermore two Rolls Royce vehicles were employed for the show-finish. One, coming from Dubai, gave away sunglasses to spectators, while from the trunk of the other, a machine was launching storms of confetti.
Celebrities and millionaires joined the convoy in an event geared towards raising cash for the Gumball 3000 Foundation.
The foundation focuses on projects for young people, aiming to improve life for children and also teens growing up in deprived areas of the United Kingdom.
As a result this year's rally has already raised close to 600,000 euros to support the foundation started by British entrepreneur Maximillion Cooper in 1999.