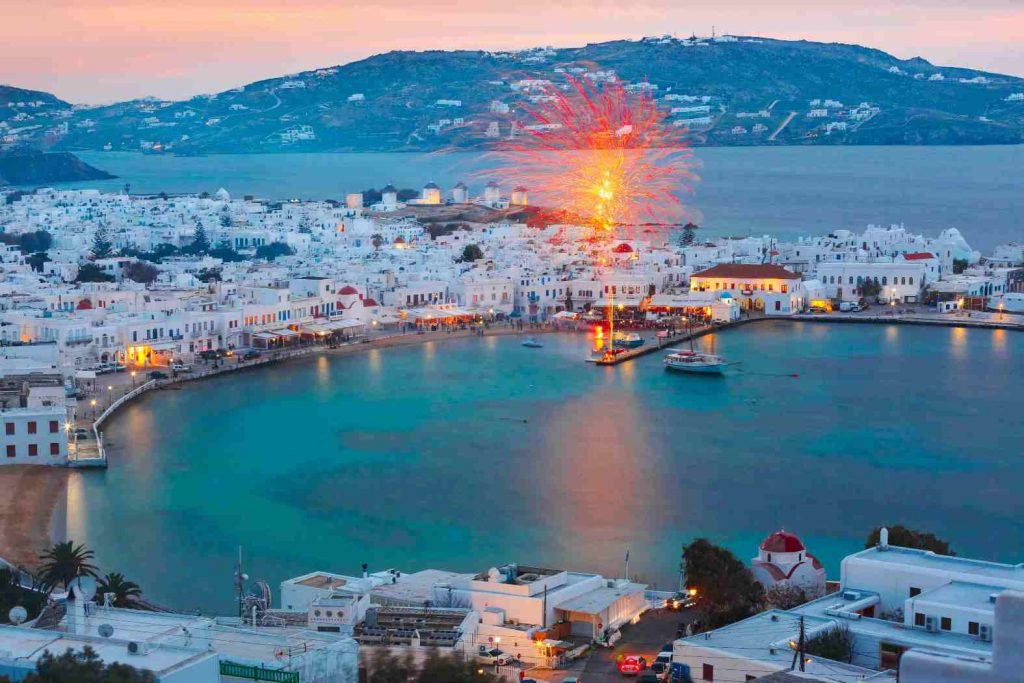 Mykonos welcomes first tourists as the first flight from abroad landed last Wednesday afternoon, inaugurating this year's tourist season as Greece reopens to travellers!
It was an Edelweiss Air flight from Zurich, with 50 passengers, including families with children. The tourists, all wearing face masks, said they are happy to visit Mykonos adding they feel perfectly safe on the island.
Greece reopened on Friday
Greece lifted most of its existing lockdown restrictions, including those prohibiting travel between regions, on May 14, as it reopened to the world.
Starting on June 1, the European green vaccination certificate will go into operation implementing a proposal put forward by Greece, to facilitate travel for those who have been vaccinated or have a negative test.
Moreover, targeted random testing of arrivals at the entrance gateways into Greece using the advanced EVA algorithm, based on the epidemiological burden of the country of origin of each visitor, will continue.
Regarding the green digital certificate, anyone wishing to travel to and from the islands (with the exception of Lefkada and Evia), either by boat or by air, must have a vaccination certificate when booking their ticket (14 days after the second dose), or else a negative 72-hour PCR test, 24-hour rapid test or 24-hour self-test.
Airlines and shipping companies will be responsible for carrying out the checks. All domestic and foreign travelers over five years will be obliged to take the test.
In detail, the declaration of self-tests should be made on the platform self-testing.gov.gr while those who attend public and private facilities for PCR or rapid antigen test should request a digital certificate with the result of the test.
Requirements for traveling to Greece
Travellers from the European Union, New Zealand, Australia, South Korea, Thailand, Rwanda, Singapore, the United States, the United Kingdom, Israel, Serbia, and the United Arab Emirates are allowed to enter Greece without having to quarantine if they meet certain conditions.
Those coming from the above countries who've received a full dose of the COVID-19 vaccine at least 14 days prior to arrival do not need to quarantine; they also are not required to provide a negative COVID-19 PCR test. Those who are not vaccinated will need to provide a negative COVID-19 PCR test within 72 hours of arrival in Greece. Children ages five and under are exempt.
Passengers can enter the country through nine airports: Athens, Thessaloniki, Heraklion, Corfu, Rhodes, Kos, Chania, Mykonos, and Santorini. Land border entries are permitted at the entry gates of Promachonas and Nymphaio.
All travellers must fill out a Passenger Locator Form no more than 24 hours prior to arriving in Greece.
All international arrivals will be subject to random and mandatory health checks in Greece, which can include a rapid COVID-19 antigen test. Those who test positive for SARS-Cov-2 will be transported to a quarantined hotel, paid for by the Greek government, where they will take a COVID-19 PCR test to confirm the results. For travelers who test positive again, they will remain in quarantine for at least 10 days after which they will undergo a new round of testing to determine if they are COVID-free.
Requirements for returning to the United States
All international arrivals to the United States—including returning U.S. citizens—must provide proof of a laboratory-generated negative COVID-19 test result procured no more than three days prior to departure, according to a CDC order issued in January. The tests must either be a viral antigen test or a nucleic acid amplification test, such as a polymerase chain reaction (PCR) test.
The test result must be either a paper or electronic document provided by a laboratory. It must include the passenger's name, specimen collection date, and the type of test.