Mykonos is a picture of Greece's aesthetic idiosyncrasies. Whitewashed houses offset with primary blue hues and flashes of fuchsia bougainvillea, narrow, winding streets festooned with laundry and centuries-old coastal windmills make it an ideal spot to whip out the old watercolours.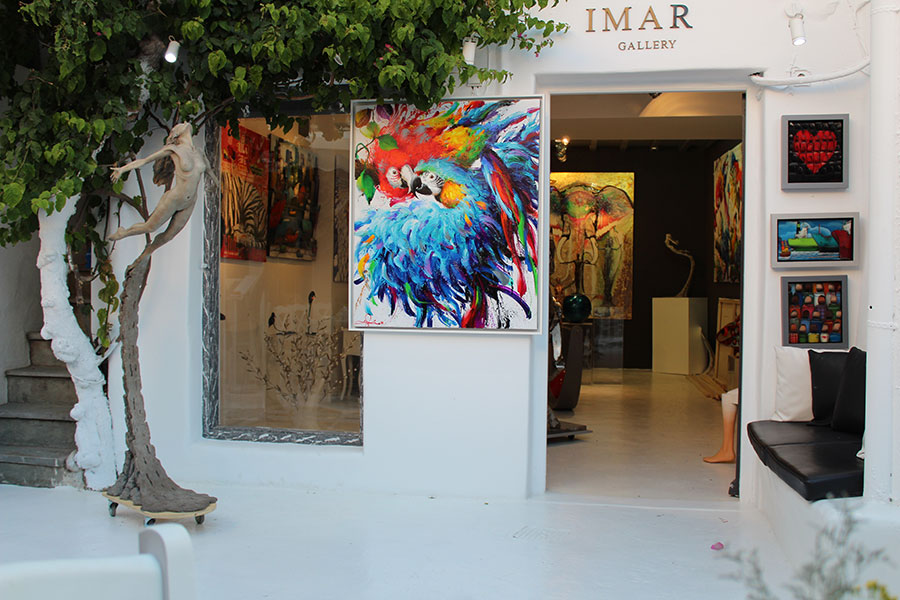 And while the island's 24-hour reputation, internationally renowned restaurants and pumping beach clubs draw in a party crowd, there's a burgeoning art scene that's attracting a more discerning kind of tourist to the island. Its many galleries and the new Mykonos Art Festival all point to an exciting cultural blossoming.

In Mykonos town, the island's galleries sit inconspicuously among its heaving alleyways, ubiquitous souvenir shops and outposts for luxury brands. One street away from Ling Ling (the Michelin-starred Hakkasan's sister restaurant) is Rarity Gallery. Run by Vassilis and Christos for 25 years! The gallery exhibits works — photography, painting and sculpture — from internationally esteemed artists, including Julian Opie and Carole Feuerman.
Pop in on a Tuesday night around 11pm and it's as packed as the Royal Academy's summer exhibition on a Saturday. Opera music swells and spills into the street while owner Vassilis entertains prospective buyers. "We're open and busy from 10am in the morning until 2am at night," he tells me as he flits between well-dressed people in the market looking for a new piece of work to line their hall.
Exhibiting this summer is Greek-American artist Paul Rousso, whose debut show last year went so well that he's back for another season. "I have so much respect for the other artists that Rarity carries," says Rousso.
"Mykonos is one of the most important, cosmopolitan and well-known summer destinations in the world and above all, it's beautiful," adds Vassilis. "It wasn't really the jet-setters that drew us in, it was more the feeling of the island."
Although all Mykonos's galleries are within a 10-minute walk of each other, each is commercially successful in its own right. The aptly named Big White Gallery predominantly shows Greek artists, while Gallery Skoufa (with an outpost in Athens) and Kapopoulos Fine Arts offer a mix of emerging and established Greek and international artists. Each runs an ever-rotating show, selling work daily — an indication of how art has become big business for the island.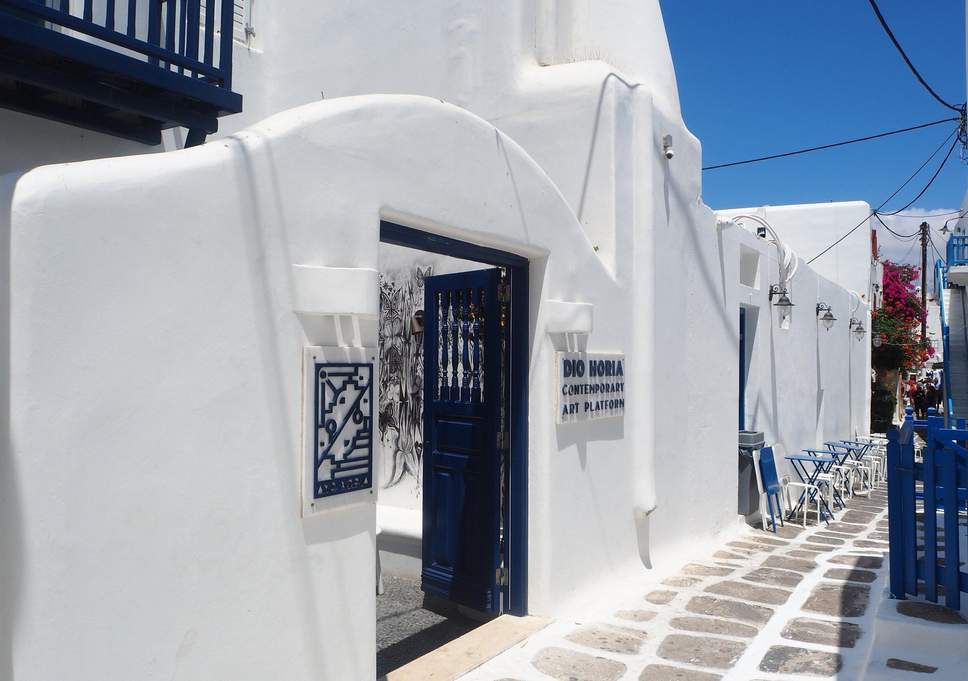 Not that it's all business. Championing young, contemporary artists in Mykonos is curator Marina Vranopoulou, founder and owner of Dio Horia Gallery on Panahra Square. Opening as a platform in 2015 with the intention of hosting a summer residency and non-commercial exhibition based on the work made by each artist invited, Dio Horia (a breezy three-floor space with a rooftop bar dropped into Mykonos's centre) is the freshest gallery on the island. It's perhaps most representative of the contemporary art scene there because of its island-inspired residency programme.
"I invite artists to come and stay in Mykonos and actually be influenced by its past and what it is today," says Vranopoulou. "I like the idea of having an exhibition space on an island where people are relaxed and have time to come and enjoy the art."
American artist Todd James's hyper-saturated paintings of Mykonos's selfie-taking beach clubbers bedeck the sun-filled upper floors of Dio Horia, while the newly landed and jet-lagged Matt Palladino works on this summer's Mykonos-inspired instalment, opening on July 6.
"I work in a basement in Brooklyn, so being here to make the art is pretty much the dream," says Palladino, who is working on a watercolour interpretation of his new surroundings.
"There's an effort nowadays to bring more quality art into Mykonos, and Dio Horia seems to be leading the way in this," says Nefeli Baimpa Dimopoulou, a Greek architect.
A few streets away, Berlin gallery Magic Beans has opened a pop-up exhibition for the summer, focusing on emerging contemporary artists in its first gallery outside Germany.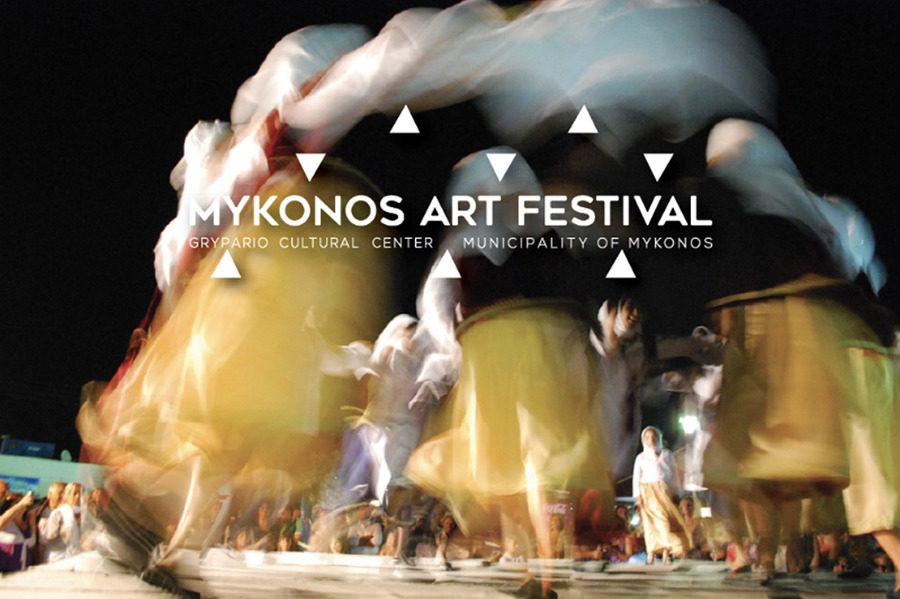 Not your typically laid-back Greek island, Mykonos is leading the charge in cultural output, attempting to match its cosmopolitan image with its artistic draw. Andonis Kioukas, founder of this year's inaugural Mykonos Art Festival, says his aim is to "create an annual cultural event of the highest quality, worthy of the reputation of Mykonos as a unique international destination". Thanks to forward-thinking curators such as Vranopoulou at Dio Horia, the island is well on its way.