This alternative Mykonos Town guide offers you a more traditional look at the Cycladic life of Chora and includes many hidden treasures.


CATCH THE SUNSET
Mikri Venetia (Little Venice), with its view of the windmills, is without doubt the most famous place from which to watch the sunset when you're in the main town of Hora. The most sought-after tables are on the rooftop of the Galleraki Cocktail Bar, at the windows right at the back of the Kastro Bar, at the Caprice Bar, at Scarpa and at Bao's Cocktail Bar.
SEA TALES
Mykonos' renowned Armenistis Lighthouse was one of the largest in the Mediterranean, and, in fact, received an award at the 1889 Universal Exposition of Paris for the ingenuity of its mechanical workings. It remained in service until 1983, helping countless ships make their way safely through the narrow sea passage separating Mykonos and Tinos. Today, the lighthouse constitutes a part of the Aegean Maritime Museum – Mykonos.
To reach its courtyard, visitors pass through the impressive interior of a traditional Cycladic sea captain's house. Among the items on show in the courtyard are grave markers, copies of items found on Delos and Mykonos. Inside the museum, models of ships, antique maritime instruments and coins with nautical themes from the 5th century BC will certainly grab your attention, as will the ombrellino, or parasol, that belonged to Manto Mavrogenous, a heroine of the 1821 Greek War of Independence. (The Academy of Athens honored Giorgos Drakopoulos, a benefactor of Mykonos, for his efforts in establishing this museum.)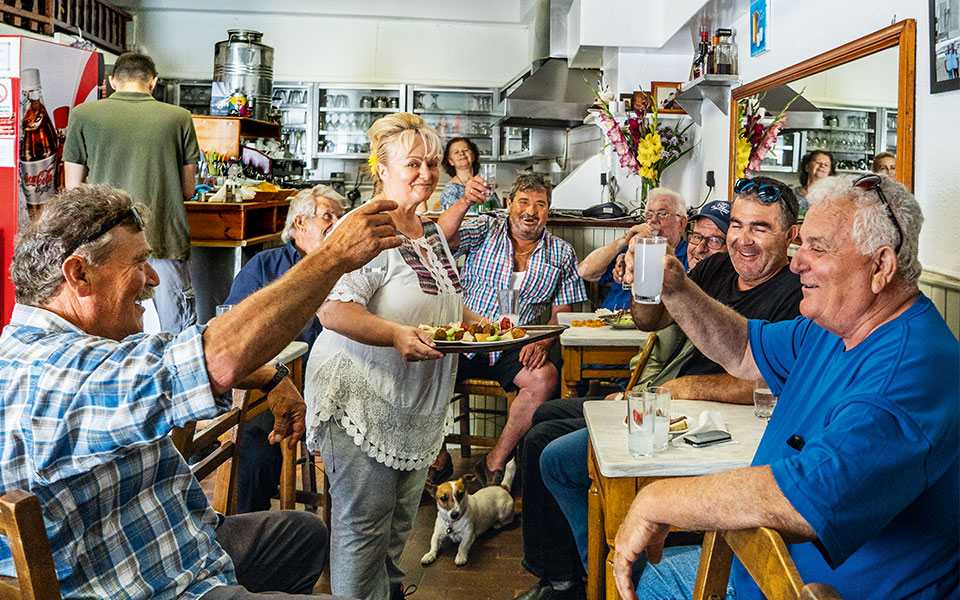 WHERE MYKONOS GOES
The last traditional Mykonian kafeneio in Hora has been operating non-stop since 1978; the sign above the door reads "Yialos," but everyone knows the place as stou Bakogia ("at Bakogias' place"). Every Sunday, after church services, locals gather and drink tsipouro, argue about soccer and politics, laugh and even sing together. At the peak of the summer season, some 200 eggs a day are prepared in their kitchenette.
Up until four years ago, Kyria Vasiliki (Kyria, the Greek term for "Mrs.", is also a term of respect) had been at the frying pan but, since then, her daughter Asimina and granddaughter Vasiliki have taken over. Little meze dishes come and go, accompanying the ouzo and tsipouro. A definite must-try is the local cold cut louza, as well as the mostra – a rusk topped with local kopanisti cheese, chopped tomatoes and capers.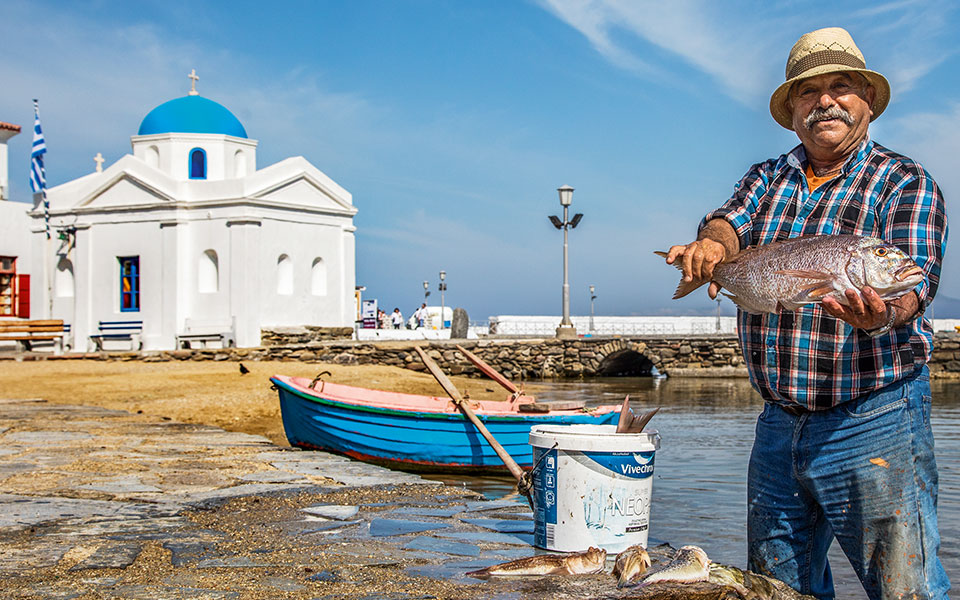 AT THE LOCAL