If elegance was a place and a season it would have been Mykonos in autumn as it is a period of the year filled with grace, romanticism and everlasting beauty.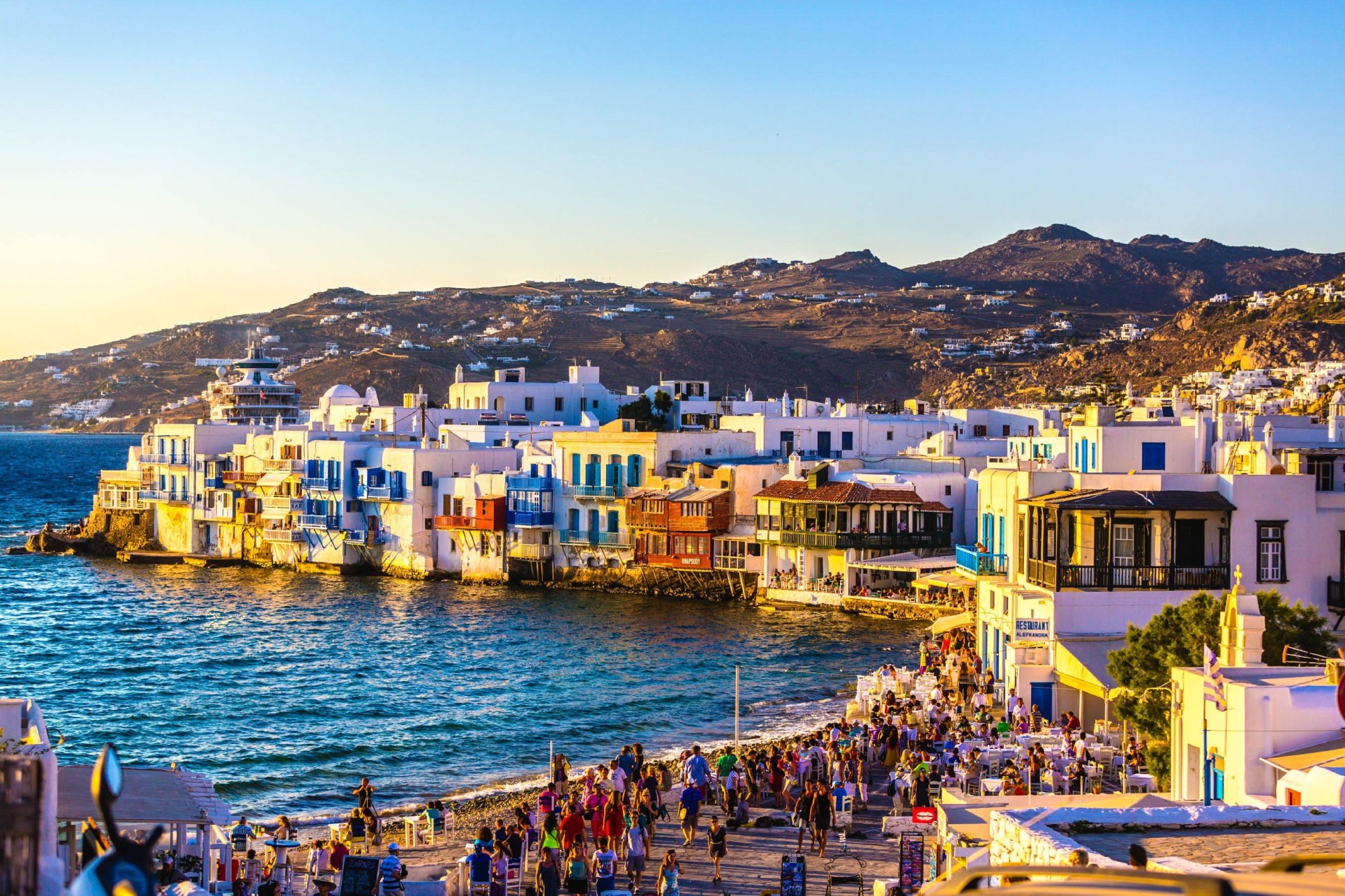 The hectic months of July and August have drawn to a close, and September is upon us. Mykonos is a fabulous holiday destination in the height of summer, but you may not realise a hidden secret about the island. Many of those 'in the know' think an autumn break in Mykonos in September and early October is actually the best time to visit this beautiful island.
So if the idea of a last minute break to Mykonos sounds appealing, read on for some tips as to why Mykonos is great in early autumn.

Perfect Autumn Weather in Mykonos
Autumn is an excellent time to visit this glamorous island. You can enjoy glorious 'Indian summer' weather in Mykonos and the comfortably warm sea. There's little to fear with autumn weather in Mykonos, with average September temperatures hovering around the lower middle 20s (over 70F) and beaches still ideal for sunbathing. Rain remains unlikely, and the sea in September is the perfect temperature for swimming at around 25 degrees. The September weather in Mykonos is ideal for relaxing – you can avoid the intense heat of the height of summer and still soak up the warm rays of sunshine on the beach. October in Mykonos is a few degrees cooler than September on average, with slightly more likelihood of rain on some days. The sea remains a balmy temperature in October, at around 22 degrees.
Laid Back Mykonos
The island always offers a superbly laid-back holiday experience, but September really marks the zenith when Mykonos becomes the byword for true laid-back luxury holidays. By autumn the major crowds of the summer have passed, so there's more room to stretch your legs and chill out. Most of the popular party destinations will remain open in September and often into early October, but you'll find more space on the beaches and have your pick of the best premium spots and locations unencumbered by big crowds.
Better Value in Mykonos
With high summer season over, autumn is the perfect opportunity to take advantage of low season prices. You'll discover that you can enjoy the unparalleled luxury of hotels and villas for lower rates and very attractive prices, making autumn a great time to get the best value in Mykonos. September and October also represents a good time for value for money travel, with some great offers and prices available for low cost plane tickets to Mykonos. The island is also easily accessible by ferry throughout September and into October too.
Great Shopping in Mykonos
Anyone who enjoys a spot of retail therapy won't be disappointed by autumn in Mykonos. With a great range of boutique shops offering a plethora of high end clothing, jewellery and unique accessories, Mykonos is a top choice fashion destination. With quieter streets in September and October you can expect even better service than usual, and fantastic deals are available as shops begin to prepare for the end of the season. Savvy shoppers can bag themselves a bargain and take home a slice of bohemian Mykonian style as the perfect holiday memory.
Explore Mykonos
Autumn in Mykonos is the perfect time to savour the island's natural splendor and truly discover Mykonos for yourself. With more space and less crowds you can really relish the island's unique Cycladic character, by wandering peaceful winding cobbled streets, admiring the traditional Mykonos architecture and whitewashed houses. Autumn's more moderate temperatures make this the perfect time to really explore Mykonos in comfort, away from the baking heat of the summer.
Soak up the island's sights and sounds, with postcard-pretty towns like Hora and the iconic picturesque windmills of Little Venice. Walk along expansive beaches whilst gazing out over the crystalline blue waters of the Aegean. You can even take a day trip to Delos, famed throughout the world for its extraordinary archaeology.
Mykonos in Autumn
Visiting Mykonos in autumn will offer you something a little different from a holiday on the island at the height of summer, and this unique experience is sure to make your stay magical and memorable. Mykonos is always the perfect destination for a holiday break, and a holiday in Mykonos in September and October is guaranteed to deliver. Autumn in Mykonos is a magical time, and everyone on the island is ready to welcome you for a truly special autumn holiday in Mykonos!