Undoubtedly one of the most glamorous of the Greek islands, Mykonos is renowned for its stylish restaurants, lively waterfronts and sun-kissed beaches perfect for a relaxing getaway with your family, or your other half. Or, for those who like to dance the night away, in some places the island also comes alive after dark, with world-famous DJs and beach parties. But if that alone isn't reason enough to visit, here are 10 more reasons to go to Mykonos and seriously consider a holiday to this paradisaical island by the famous travel blogger, Gabrielle Morley-Ham…
1. The town
When I checked out photographs of the town before visiting the first time, I was amazed. The white washed walls, secret streets and cobbled walkways – idyllic. But I SURELY there were only a couple of streets like this, where ALL of the photos were taken… it couldn't be that perfect.
But oh no no. I gave my cynical self a talking to in the corner. The whole of Mykonos town is a maze of photo-worthy nooks and crannies. Around every turn is a new beautiful sight you haven't seen before, a new street to wander down, take in the atmosphere and get yourself lost for an afternoon.
Number one rule of Mykonos: Step away from the damn map my friend. You most likely wouldn't be able to understand the thing anyway. Mykonos is all about getting lost. You never know what you may find or where you'll end up. But you will always find your bearings in the end. We came across all of our favourite spots purely by not having a bloody clue where we were.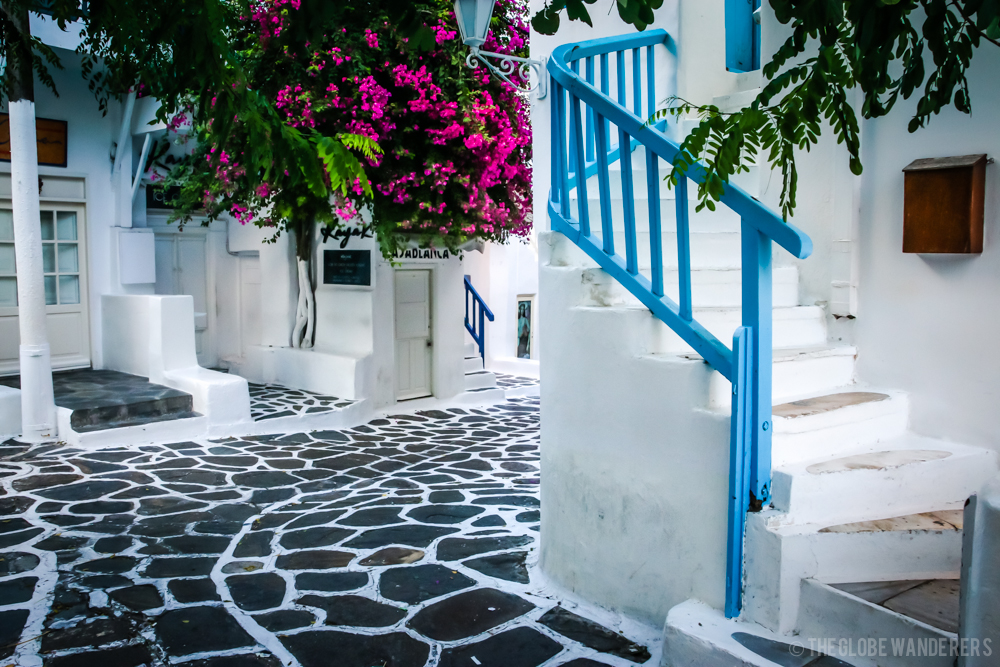 What makes this magical town even better is also the difference between day and night. I still find it hard to pick which I prefer. By day the white washed walls glisten in the sun and the wind blows through the side streets, cooling you down. The iconic colours of Greece, white and blue sit perfectly alongside the bursts of bright pink borgenvelia. It's so beautiful.
In the morning you will see the town at work. The locals open their shops and restaurants as deliveries are driven through town on tin trucks and everyone is getting ready for the day ahead. As the sun rises over the town, casting golden hues against the buildings, it's the best time to get snap happy.
At night, none of the daily charm is lost. The streets and alley ways are flooded with light from the shops, bars and restaurants. The smell of classic Greek dishes fill the air. The moonlight replaces the sunshine, casting light through the town.
An absolute must is to catch a movie under the stars in the open-air cinema. It's a little tucked away but is just waiting to be discovered… and what's even better? It's free! (The film that is, not the food).
2. The people
One of Mykonos' greatest gifts is its people. Our first trip to Mykonos was our first taste of Greece. In many places around the world from Spain to Thailand and beyond, locals bombard and harass you as you walk past their shop, bar or restaurant, almost chasing you down the street as they try desperately to lure you in.
In Mykonos, we have never experienced this. You're always welcome to look around for as long as you like and the owners will be happy to help, chat or just leave you be. The restaurant and bar staff are just the same. They'll show you the menu if you like and offer you a business card then wish you a pleasant evening. If you return then you may receive a hand shake in thanks but don't worry about walking past the same place every night and never going in. You won't be chased down the road…promise!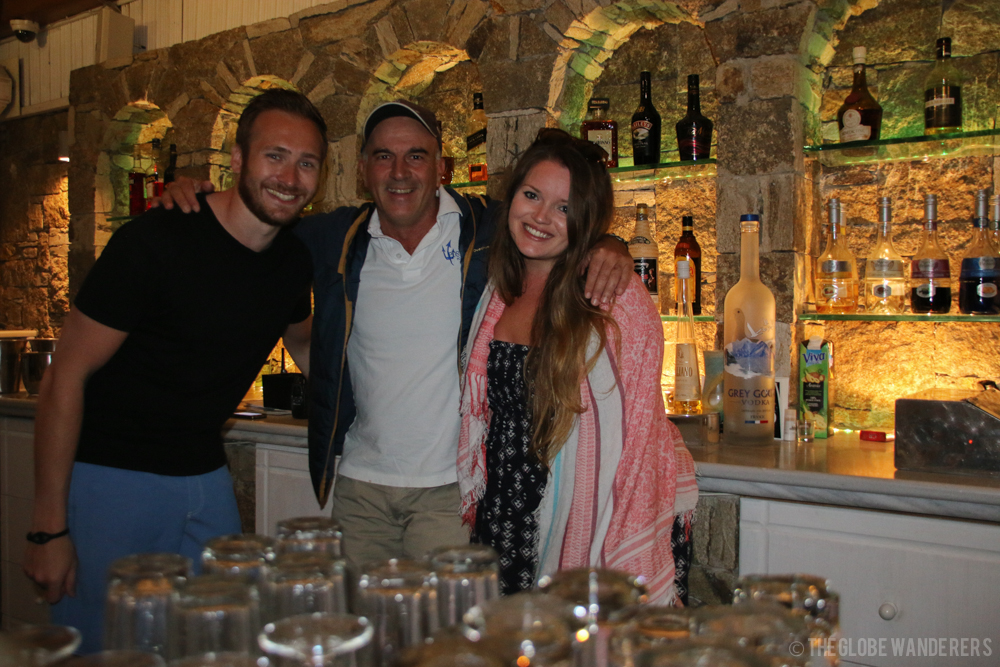 We've made new friends each time we have visited Mykonos, regardless of the language barrier. We have always been made to feel immensely welcome and would go as far as saying the Greek people are some of the nicest and most hospitable we have ever had the great privilege of spending time with.
3. The food
If this isn't your first visit to our blog then firstly, THANKS for the love. And secondly, you may have noticed that we're proper foodies and have a habit of eating our bodyweight in anything going. Give us new and exciting local delicacies and authentic cuisine to try and we're all over it like a rash.
Greece is no exception and the food here is to die for. Mykonos is bursting with great restaurants. You really will be spoilt for choice. If you fancy sticking to traditional Greek then you'll be salivating for their homemade filo pastry pies, haloumi, fried zucchini, tzatziki, hummus, pita, moussaka, taramasalata, gyros and our favourite street food, souvlaki… Annnnd I'm salivating.
4. The cocktails
Great cocktail bars are not hard to come by in Mykonos. There are a ton of them but some are better than others and they will take a big slurp out of your budget. Sometimes though, a cocktail is necessary, budget or no budget.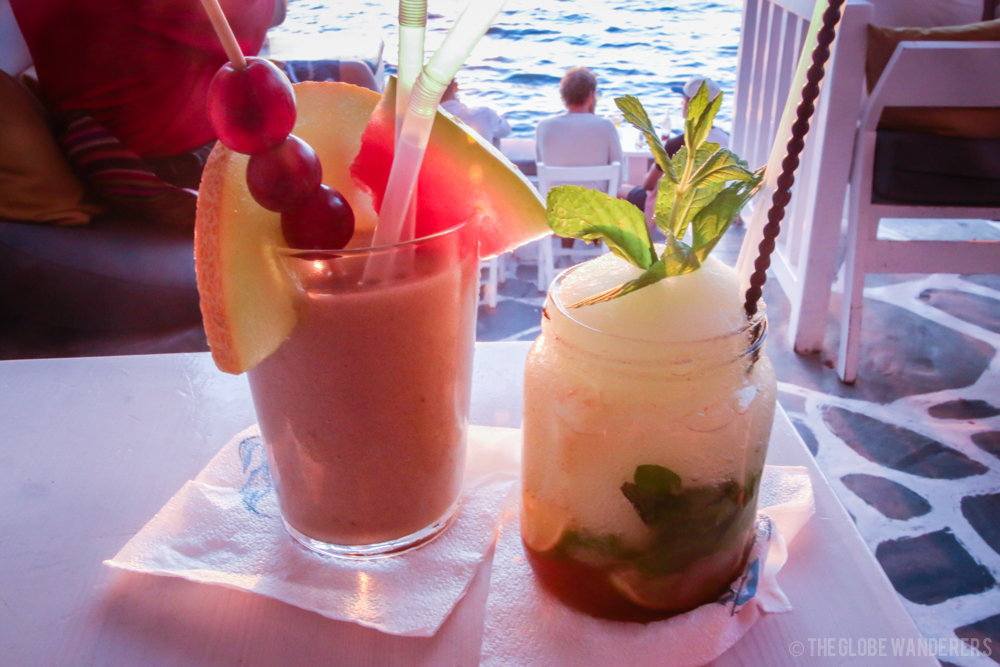 We have a couple of favorites: Scarpa is a perfect spot for sundowners, right at the water's edge in Little Venice. Its cocktails are all delicious although I wasn't too keen on their signature concoction that pretty much tasted like drinking pureed beetroot… James thought it was the dog's wotzits though. Always did say he was an odd one. Try the 'Scarpa' if you're a weird one too.
Beetroot weirdness aside, Piano Bar 'Montparnasse', is and always will be our chosen hangout. This place is a Mykonos must! It's tucked away in Little Venice and is a very gay friendly cabaret bar. Now if you're thinking, 'that isn't my scene' then you're wrong… very wrong indeed. I absolutely guarantee you'll love this place. Not only are the staff great and the drinks delicious but also the cabaret will have you clapping along and swaying with the best of them. My one problem with this place is having to endure the sympathetic looks as James sung along to 'It's Raining Men' at the top of his voice, with a Ginger Rogers in his hand. I'm sure they all think we're both in denial.
5. The sunshine
If you're a sun worshipper, Mykonos won't disappoint. Head to the island over the summer months (June-August) if parties and sun are your thang. The town gets really busy during this time and get ready for crowded streets, late nights and beach parties galore. Prepare to be faced with A LOT of speedos.
We've been twice out of season (in late May and early October) and were spoilt for sunshine both times. We'd always choose to visit in the quieter months. It's the perfect time to go for sunny days, cooler evenings and a calmer atmosphere. Don't you worry though, the cocktails will still be flowing.
From November through to April the town pretty much closes its doors. Bars stop opening, shops close up and restaurants shut down for the Winter season. Best to avoid this time unless you're after a party for one.
6. The shopping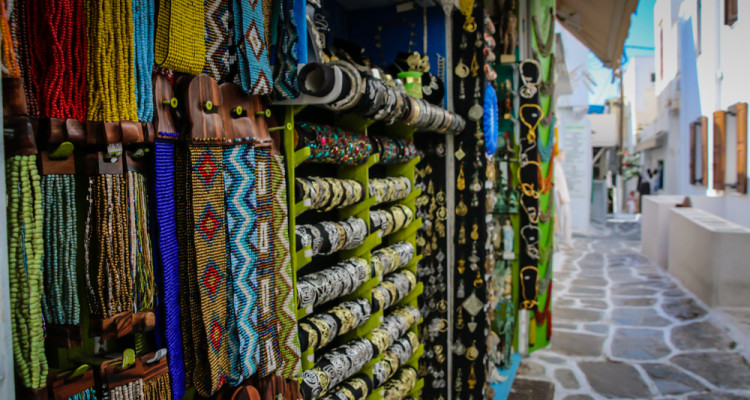 I never expected Mykonos to be a place for shopping but boy was I wrong. There must be hundreds of boutique, cave-like jewelry shops full to the brim with stunning locally made pieces.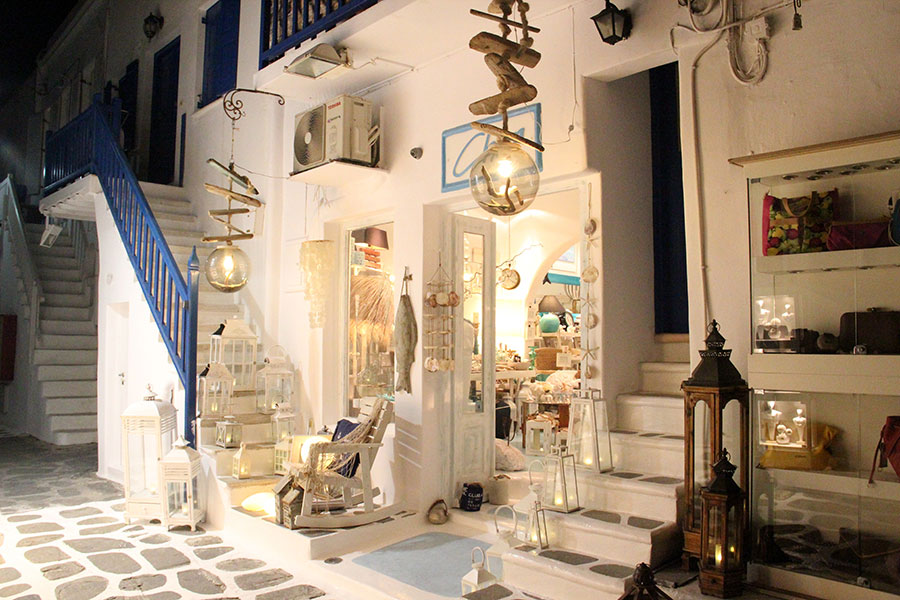 There are even some shops you'd never expect to see… think Louis Vuitton, Accessorize, Timberland and Diesel. Furthermore the shops are open crazy hours, from about 8.30am through to midnight without any kind of siesta. The Greeks sure are grafters.
7. The photography
If you love photography, you'll also love Mykonos. It really is as simple as that. The colors, the paving stones, the secret streets, the character-filled faces… there's a perfect photo opportunity wherever you turn. You could also return to Mykonos time and time again and still find a new little corner you've never seen before. Make sure you've always got your camera handy
I don't care how painful it is, one morning set your alarm for 7am. (It really was a struggle after the cocktails) Get up, grab your camera and head over to see the sunrise over the windmills. There will be no one else around (although we did have to contend with some weird half naked photo shoot going on) and the lighting is ethereal. Stand back and enjoy the show. Early morning is also a great time to explore the town and see a different side to Mykonos. The locals are selling vegetables on the waterfront, deliveries are being made and also the streets are being cleaned. It's worth the wake up call.
8. The sunsets
Mykonos sunsets are some of the best we've seen. Perhaps it's something to do with the pink and orange hues of the sky, the way the colours reflect in the crystal clear waters and create beautiful silhouettes from the white buildings.
Or perhaps it's simply because we watch them, sipping on cracking cocktails happy in the knowledge we're in one of the most gorgeous places on earth.
9. The pelicans
James wouldn't agree with including these. The first time we visited Mykonos one was thrown in his face by an angry lady. I don't think he's quite recovered. Pelicans in the face aside, they are gorgeous birds and there are three that call the town of Mykonos home.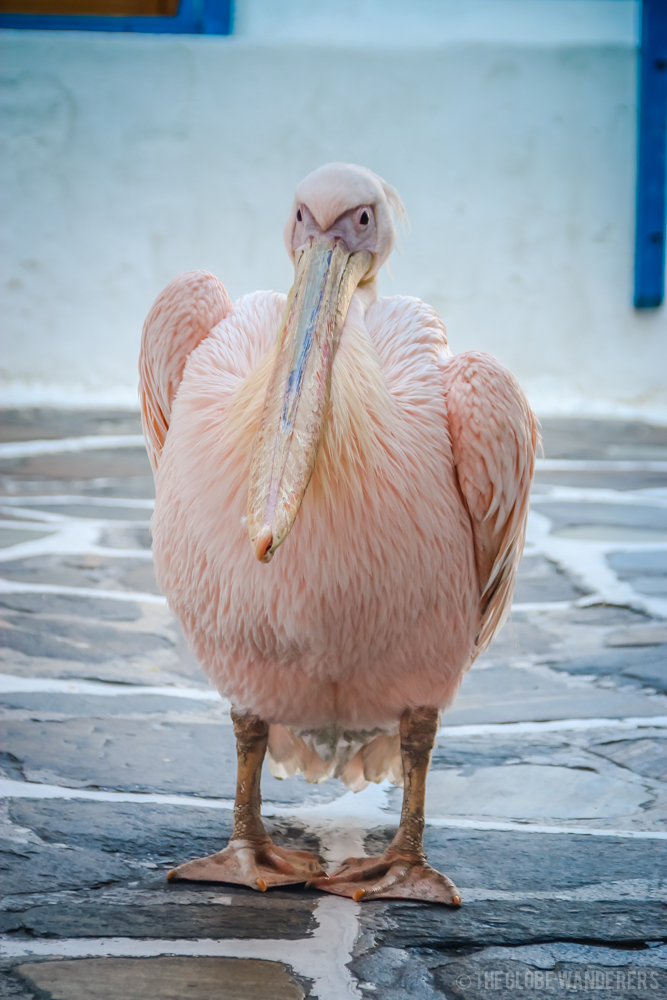 Apparently one pelican was rescued on the island decades ago and became such a local celebrity that when he sadly died, they introduced three more to take his place. These guys should also fall into the photography section, just don't get too close or you may get more than you bargained for.
10. The atmosphere
The atmosphere in Mykonos is seriously special. A combination of the beautiful setting, the smiling faces of the locals, the greek music playing in restaurants as you walk past, the smell of authentic Greek cooking, and the hustle and bustle of a buzzing community make it one that can't be matched. So book your flight, grab a cocktail, a plate of halloumi and soak it all up. We can't get enough.
Of course there are many more reasons to go to Mykonos, but we have tried to keep it short and also innovative.