Undoubtedly one of the most glamorous of the Greek islands, Mykonos is renowned for its stylish restaurants, lively waterfronts and sun-kissed beaches perfect for a relaxing getaway with your family, or your other half. Or, for those who like to dance the night away, in some places the island also comes alive after dark, with world-famous DJs and beach parties. But if that alone isn't reason enough to visit, here are 10 more reasons to go to Mykonos and seriously consider a holiday to this paradisaical island by the famous travel blogger, Gabrielle Morley-Ham…
1. The town
When I checked out photographs of the town before visiting the first time, I was amazed. The white washed walls, secret streets and cobbled walkways – idyllic. But I SURELY there were only a couple of streets like this, where ALL of the photos were taken… it couldn't be that perfect.
But oh no no. I gave my cynical self a talking to in the corner. The whole of Mykonos town is a maze of photo-worthy nooks and crannies. Around every turn is a new beautiful sight you haven't seen before, a new street to wander down, take in the atmosphere and get yourself lost for an afternoon.
Number one rule of Mykonos: Step away from the damn map my friend. You most likely wouldn't be able to understand the thing anyway. Mykonos is all about getting lost. You never know what you may find or where you'll end up. But you will always find your bearings in the end. We came across all of our favourite spots purely by not having a bloody clue where we were.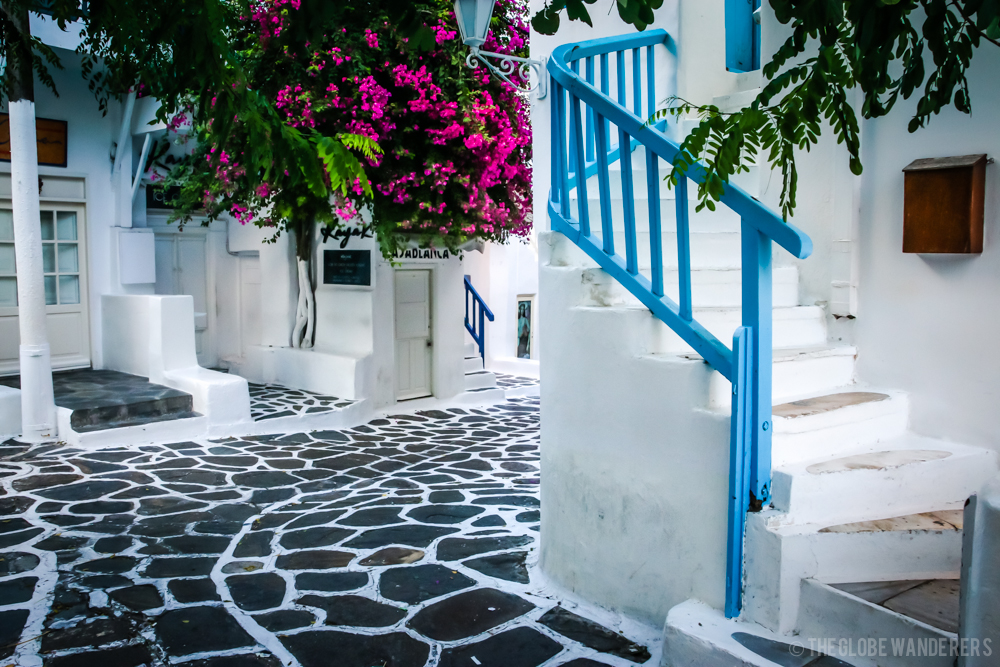 What makes this magical town even better is also the difference between day and night. I still find it hard to pick which I prefer. By day the white washed walls glisten in the sun and the wind blows through the side streets, cooling you down. The iconic colours of Greece, white and blue sit perfectly alongside the bursts of bright pink borgenvelia. It's so beautiful.
In the morning you will see the town at work. The locals open their shops and restaurants as deliveries are driven through town on tin trucks and everyone is getting ready for the day ahead. As the sun rises over the town, casting golden hues against the buildings, it's the best time to get snap happy.